Chukudus, the large, wooden, two-wheeled scooters with handlebars and an angled frame, are favored here for carrying heavy loads. A small chukudu can hold hundreds of pounds. When the chukudu is empty, a driver rests one knee on the base and pushes the vehicle along with the other foot. When full, the driver stands behind the load, using one foot against the back tire as a brake.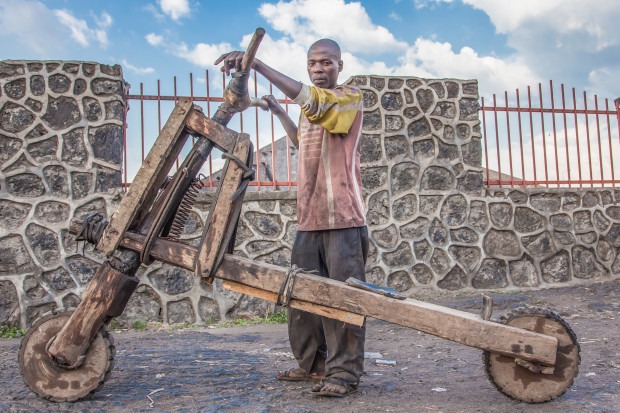 Today in this article i am going to intrigue you with a sensational topic, you might have heard about it before and you maybe have not but all the same it exist and it was made in Africa and exist in Africa in Goma City Congo.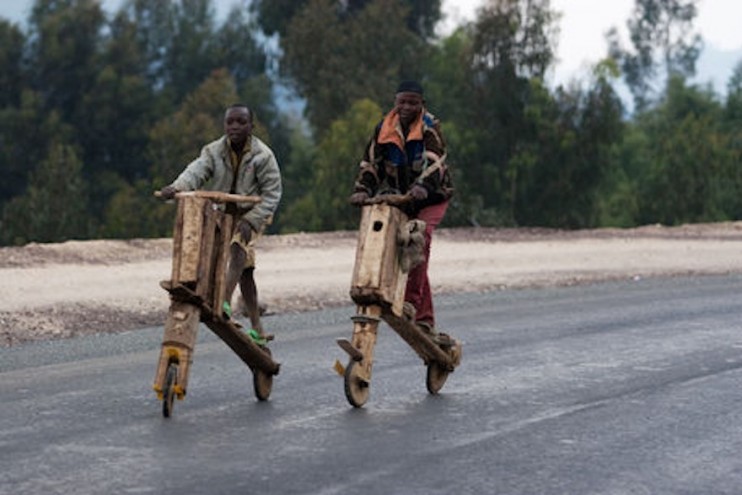 In Goma, eastern Congo, wooden scooters are the backbone of the local transportation system. The Congolese ride and push the hand-hewn scooters across hills, hauling towering loads of charcoal, bananas, potatoes and other products and produce. The vehicle is also customisable for different types of cargo. To haul firewood, the makers drill a hole in the middle of the sitting deck and insert a stick to hold the firewood in place. Other chukudus are fitted large baskets for various loads.
Despite how low-tech and crude the appearance of the chukudu may be to an outsider, the chukudus are an interesting part of life and culture in Congo and are a source of pride in Goma as they are a part of the local economy. The body is made from eucalyptus wood found abundantly in the area, while the wheels are sculpted from a harder wood that locals call mumba. The wheels are wrapped in tread cut from old tires. The largest chukudus can carry up to 800 kilograms of weight and last two or three years.
I so much admire this and i think this idea should be brought fought to Nigeria,it will aid in so much load carrying and reduce expenses. Street boys could make gains from it and it also conveys more goods than wheel barrow or some transport means we use in Nigeria. Apart from the work it does they are also cheap In 2008, chikudus were selling for US$100 with a cost of materials of nearly US$60. Similarly, in 2014 they cost $50 to $100 and were used to earn up to $10 per day, in an area where most people live on less than $2 per day. A 2014 article estimated a cost of about US$150, which a driver could pay off in about six months, earning $10-$20 per day