Traditional dress may be defined as the ensemble of garments, jewelry, and accessories rooted in the past that is worn by an identifiable group of people. … It conjures up images of rural people dressed in colorful, layered, exotic clothing from an idealized past in some faraway place.
Here is a look at few Nigerian traditional attires.
Edo traditional attire
The Edo women tie beautiful wrappers made from a variety of fabrics including velvet, lace and george. They also wear the Ewu-ivie, a beaded cape or blouse. Edo women adorn their necks with coral beads known as Ivie-uru and wear the Ivie-obo on their hands and beaded earrings.
div class='lbcdn' data-cdnpb="1567″>
Yoruba traditional dress
Yoruba native dress styles are characterized by modesty. Yoruba male native style is meant to wear buba, esiki and sapara. All these under wear items are combined with over wears like dandogo, agbada, gbariye and sulia.
Igbo Traditional Dressing
The traditional Igbo attire is usually called the Isiagu aka Chieftancy. The Isiagu is a soft shirt with pattern on it – most times gold or red patterns. Igbo culture includes the various customs, practices and traditions of the people. … These customs and traditions include the Igbo people's visual art, religious beliefs, birth, maraige and death rituals, use of language, music and dance forms, as well as their attire, cuisine(food) and language dialects.
Hausa Traditional dress
Hausa men are easily recognized by their elaborate flowing gowns known as 'Babban Gida', matched with a cap called 'Huluna'. The women wear a wrap-around robe called 'Abaya' with a matching blouse, head tie, and shawl—they usually have henna designs on their hands and feet.
Fulani / Kanuri tradtional dress
Usually, The bride's dress is a masterpiece of tribal art. Brides attire consist of a white cotton dress, with brightly-colored accents, and of course beaded bangles, earrings, and headbands around her neatly-braided hair. Sometimes they wear large gold jewelry and artsy headpieces.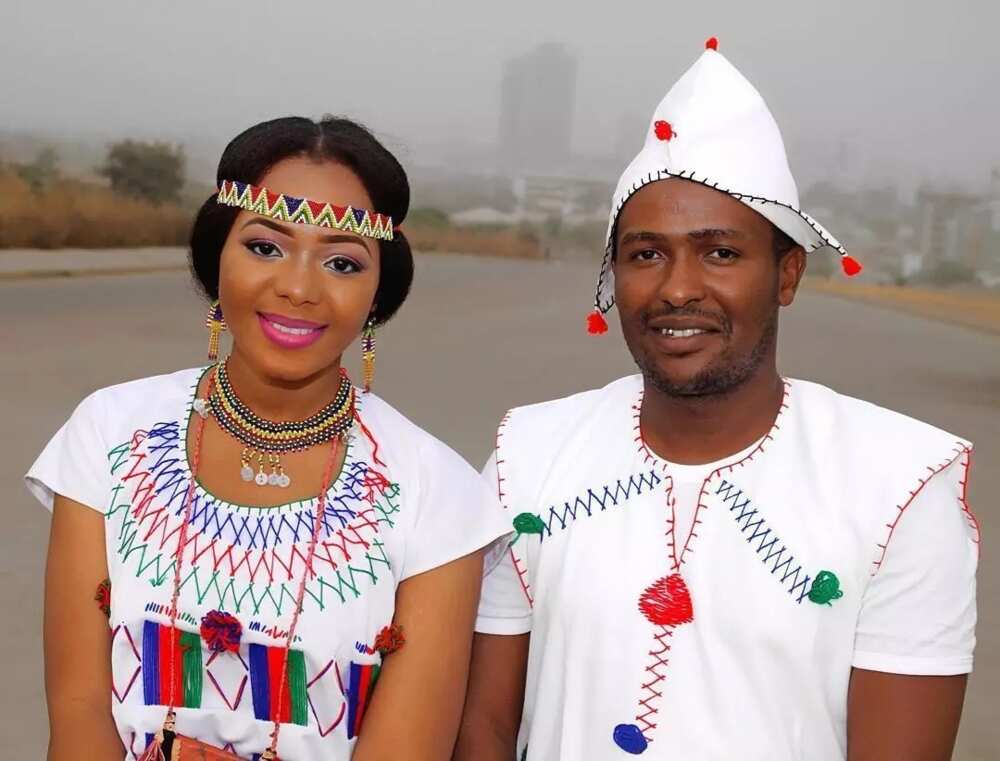 Oron Traditional attire
The Oron people have a very colourful mode of traditional dressing, especially with an Iyara (which is red in colour). The red Iyara is usually worn with a white tailored traditional shirt and a wrapper (large fabric wrapped around the waist) to match.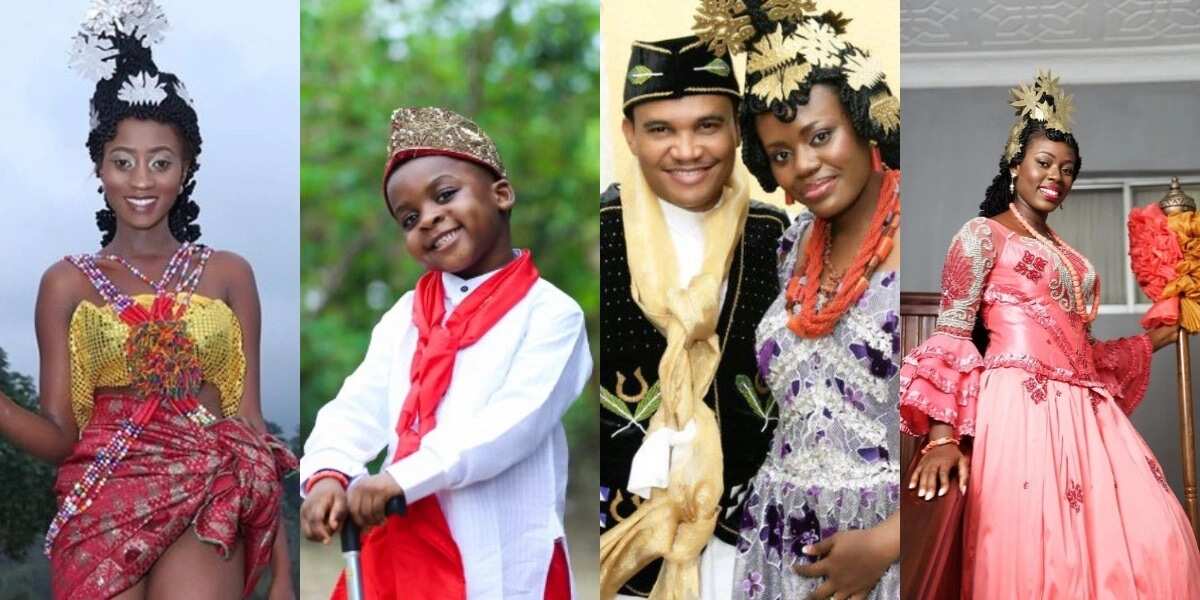 Ijaw tradtional attire
These people live in Bayelsa, Rivers, Delta, Akwa-Ibom and Ondo States. They make up for the 4th largest ethnic group in Nigeria. They live close to the river and so, all their myths and legends are water based.These people are reclusive and quiet. They like drinking as well. Their traditional system is headed by a "Pere" (King) who rules over a clan or village. They are fearless and bold! They have cultural and traditional dresses similar with the Itsekiri and Urhobo/Isoko people.
Tiv Traditional Dressing
These people dominate Benue State in North Central Nigeria. They are quite reclusive and quiet like most tribes in Northern Nigeria. They were once part of the Wukari Federation of pre-colonial times and they are similar to the Jukun people of Taraba state. They have a rich and wholesome culture and belief system which is headed by the Tor Tiv. They People are colorful and elegant and they are unique. Their traditional fabric is characterized by zebra-like stripes. Tiv people native dressing is a fabric wrapped around the waist and reaching the knees. Men wear form of turban. Tiv often prefer black and white traditional clothes. Their native dressing is known as A'nger.
Idoma traditional attire
Idoma attire is known for being black and red, and both colours have special meaning. The black in Idoma clothing (also known as Apa or Edema) represents earth and burial shroud. … You can wear black and red mufflers, caps, kaftans, blouses, skirts, gowns, wrappers or even use the colours in decorations for festivities.
Igede traditional attire
The Igede attire is displayed which is a combination of white, black and blue woven stripes. One of the notable aspects of the people's tradition is the burial of the indigenes' corpses in a special forest. People killed with arms or during a war are regarded as special and are never buried near homes but in a forest.